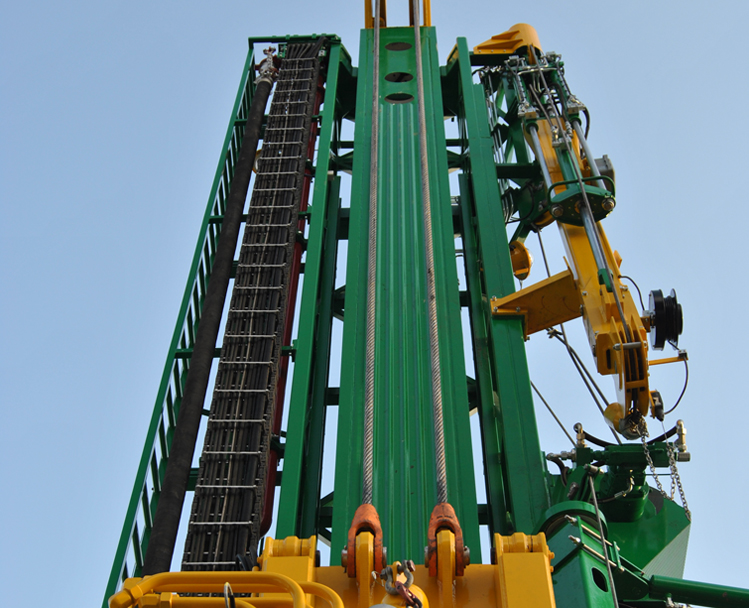 Greka Drilling offers drilling solutions across a broad range of integrated services. We provide a single cost-effective solution for multiple well services combined with best quality management systems.
Drilling Fleet
Our drilling fleet comprises purpose-built, hydraulic, top-drive rigs specifically designed for the application of drilling services within the unconventional gas industry.
Custom Built Rigs - Built to Greka Drilling specifications and client requirements
Standardised Fleet - The standardisation of the fleet allows for the management of one machine type, with the associated operating, maintenance and training consistent across the fleet
Mobility - Modularised design for efficient and fast mobilisation of rigs and associated ancillary equipment resulting in faster rig-down and rig-up time
Support - Maintenance and logistics support team protocols developed specifically to maximise operational efficiencies
Scalable - Centrally controlled at the Operations Control Center (OCC) through real time data monitoring, data flow control and smart-fast data access
Safer - Reduction of manpower to operate rig due to increased automation
Completion Drilling Services
Greka Drilling provides the following drilling and completion techniques:
Conventional: Vertical Completions
Directional: Slant, Horizontal, Multi-seam and Multi-lateral Completions
LiFaBriC: Advanced Horizontal Geo-steered Completions
Greka Drilling has revolutionised coal bed methane production by introducing its self-developed drilling and completion technique for lateral wells called LiFaBriC. With a low overall cost per mcf gas and an increase in CBM field production, it has repeatedly proved to be the most effective production technology for CBM reservoirs.
Directional Drilling Services
In order to maximise the exposure in a target formation, Greka Drilling utilises industry best practice and fit-for-purpose technology to achieve superior results. Geophysical properties of the formation are transmitted in real time to the engineers on the rig, allowing for mapping and adjustment to the wellbore's trajectory to ensure maximum exposure to a target formation and avoid, record or control subsurface anomalies. The combination of industry best practice, fit-for-purpose equipment and geo-steering in real time allows our engineers to conduct and record highly accurate positional, mechanical and geophysical properties. Our in-house Directional Drilling teams have a unique relationship with our Drilling Department which avoids interoperability issues between drilling crews and third party directional contractors in conventional operations.
Geological and Geophysical
The specialised well planning and engineering team of Greka Drilling plan and coordinate work directly with the client from the time the directional work is assigned. The well planning team interacts with drilling and geology personnel to ensure the latest information and procedures are communicated and applied to the programme. Our OCC system provides real time monitoring through fast and smart data flow in a controlled manner.
We can provide additional well services under the Greka Drilling management system, Quality Assurance and HSE umbrella. Such services may include:
Cementing
Mud Logging
Drilling Fluids Services
Wireline Logging
Coring